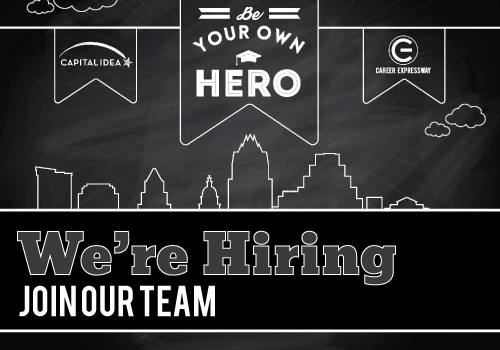 Community Outreach Coordinator
Capital IDEA is looking for an experienced, bilingual Community Outreach Coordinator to help serve and support the Central Texas community. The right candidate will demonstrate a passion for connecting with people at multiple levels, from individuals seeking an opportunity to community organizations looking to partner and collaborate. If you're the kind of person who considers every event a networking event, if you self-identify as a people person, and if public speaking is simply no sweat, read on! This might be the perfect job for you.
What's it like to work at Capital IDEA?
At Capital IDEA, we aim to empower our income-eligible neighbors with training and education so that they can reach their full potential and fill a critical need in our community for caring, skilled, and highly motivated workers. Since our founding in 1998, more than 1,900 Central Texans have launched new careers and secured a brighter future for themselves and their families.
Capital IDEA has built a diverse and dedicated team that shares a passion for our mission. We reward performance through competitive salaries and merit-based raises. While we expect our team to go above and beyond in service to our community, we also believe that you must take care of yourself to take care of others. We offer a generous benefits package which includes a week of sick leave, two to four weeks of vacation (based on experience), plus extra paid time off for everyone during the holidays (we close from December 24th through January 1st every year.) We provide medical, dental, and vision insurance, plus a three percent match on retirement contributions. When you join our team, you'll have high expectations to meet and big goals to work towards. You'll also have a team who supports you, and you'll know you're making a difference.
To Apply
Read full job description and qualifications: Community Outreach Coordinator – Capital IDEA (PDF)
Email resume and cover letter with salary requirements to Intake & Placement Manager, Larry Cummings at employment@capitalidea.org.
Deadline: Monday, October 4, 2021
Salary range: $48-52,000