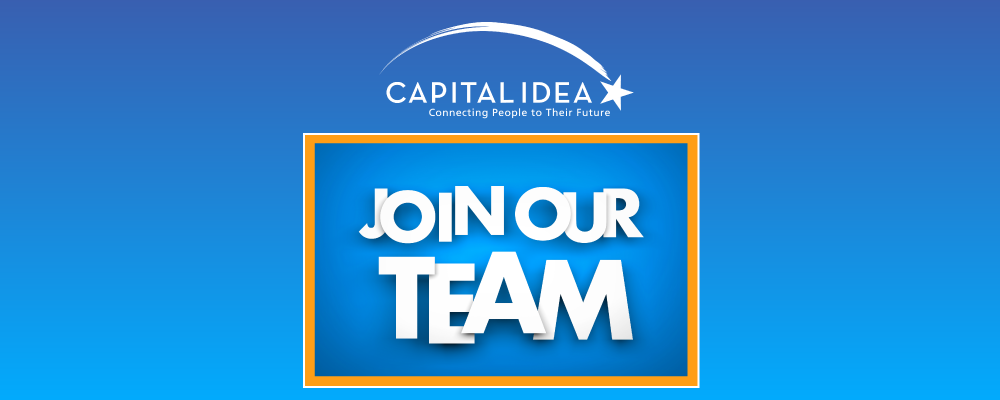 We're Hiring a Recruiter / Career Guidance Specialist!
Capital IDEA is looking to add a new member to our growing Outreach team. This is a full-time position, ideal for a recruitment professional looking to serve a great mission. If you're a people person with a passion for helping others succeed, read on. This might be the perfect job for you. We're on a mission to help thousands of our low-income, Central Texas neighbors reach their full potential and move into great careers. As a member of our outreach team, you'll be tabling events, making community contacts, hosting information sessions, and looking for new opportunities to get the word out about our Career Expressway program. You'll also cross-train as a Career Guidance Specialist, conducting one-on-one guidance sessions with applicants. Ideally, you'll bring one to two years of relevant experience in recruitment or outreach to low-income populations.
What's it like to work at Capital IDEA?
At Capital IDEA, we aim to empower our income-eligible neighbors with training and education so that they can reach their full potential and fill a critical need in our community for skilled and highly motivated workers. Since our founding in 1998, more than 2,000 Central Texans have launched new careers and secured a brighter future for themselves and their families. Capital IDEA has built a diverse and dedicated team that shares a passion for our mission. When you join our team, you'll have high expectations to meet and big goals to reach. You'll also have a team who supports you, and you'll know you're making a difference.
To Apply
Read the job description and qualifications: Recruiter / Career Guidance Specialist (PDF)
Email resume to Larry Cummings, Intake & Placement Manager: jobs@capitalidea.org
Closing date: Position open until filled.
Salary: $48,000 – $50,000