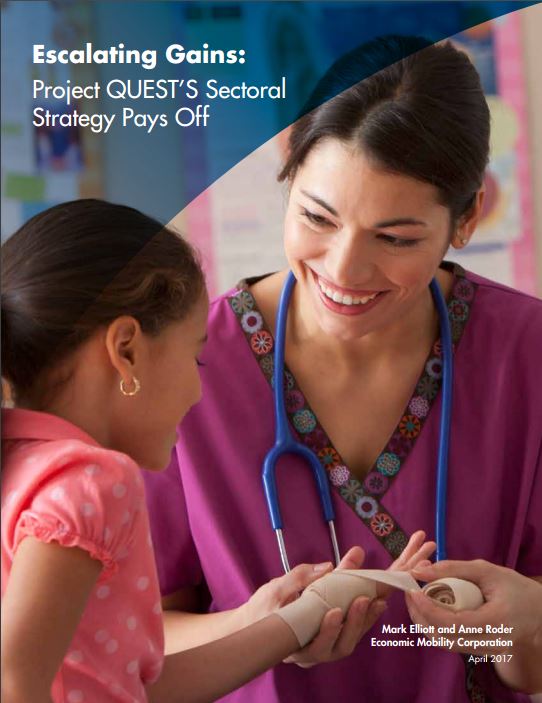 Dear Friends,
We are pleased to share the below report with you. The success of any workforce development program is cause for celebration, and we are especially thrilled for the success of Project QUEST. The leaders of COPS/Metro and the San Antonio business community generously shared the Project QUEST model with Austin Interfaith and business leaders when they came together in 1998 to create Capital IDEA. We appreciate their support and we appreciate them undertaking this rigorous, demanding, long-term random assignment study. It provides the gold standard of scientific proof of the Project QUEST model.
Capital IDEA, like Project QUEST, invests multiple years and multiple thousands of dollars in the community college education of unemployed and working-poor adults as they acquire the necessary education, credentials, and soft skills to become productive professionals in health care and other technical fields. This study's findings of "large, sustained impact on participants' earnings" gives us confidence in Capital IDEA's "significant gains in… average quarterly earnings of those employed" as found by the University of Texas Ray Marshall Center in its June 2015 report, " Evaluation of Local Investments in Workforce Development." Moreover, the Ray Marshall Center estimated Capital IDEA's economic return on investment to taxpayers at 501 percent over 20 years. That's the equivalent of a 17 percent annual rate of return. Read the Ray Marshall Brief
As any parent will tell you, nurturing development in children is neither quick nor easy nor cheap. And it will take you years before you know the results of your daily efforts. We should not be surprised that transformation in adults demands equally persistent effort, investment, and patience. Thank you for your faith in the people of Central Texas.
Sincerely,
Mary Molina
Founding Board Member
Austin Interfaith
Mark Melliar-Smith
Founding Board Member
Retired CEO SEMATCEH, Canon Nanotechnologies
Steve Jackobs
Executive Director
---
Findings Featured in the Austin American-Statesman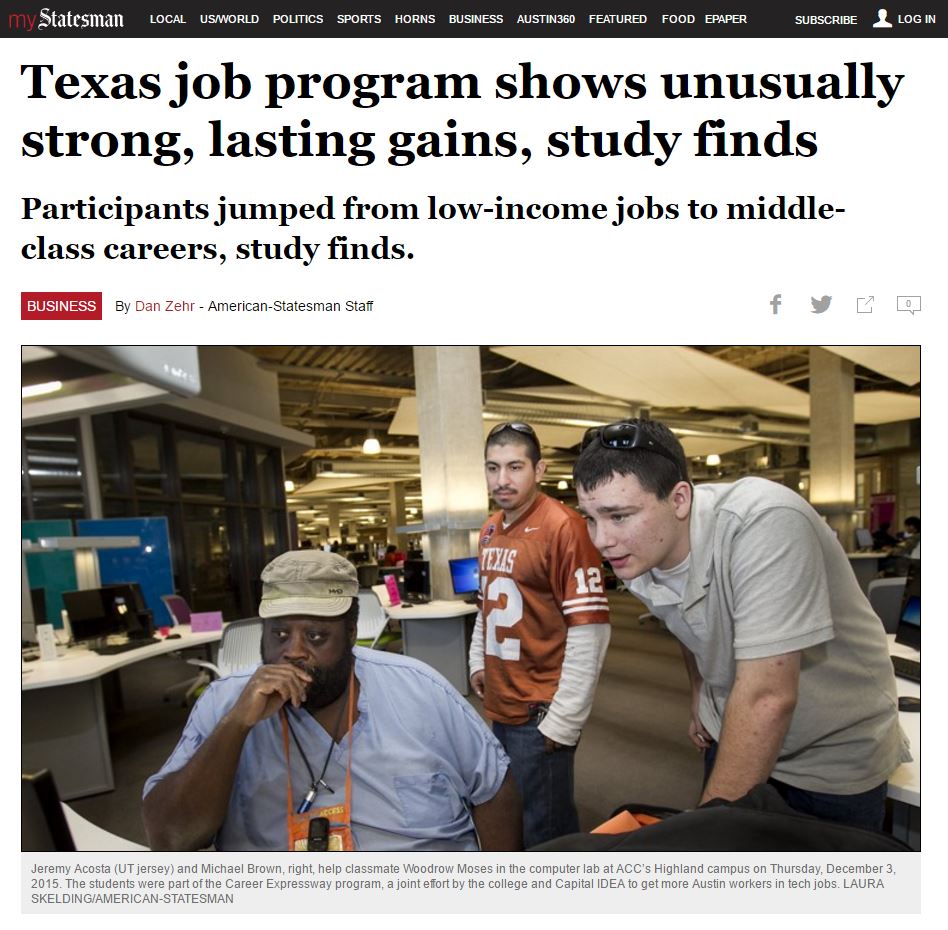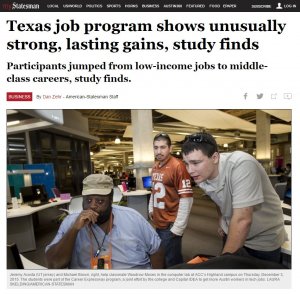 Texas job program shows unusually strong, lasting gains, study finds
by Dan Zehr – American-Statesman Staff
"Other programs have had large earnings impacts, but they haven't taken people completely out of poverty into the middle class," said Mark Elliott, a co-author of the study. "That is a stunning achievement."
…
"Project Quest served as a model for at least three nearly identical initiatives in Texas, including Capital IDEA in Austin. Elliott said results at those organizations almost certainly would match the successes found in this study.
"To me, this is the best economic development program anywhere," he said. "Employers are struggling to fill positions, and you're training residents who are really unlikely to make it on their own to fill those positions.""
---
Escalating Gains: Project QUEST's Sectoral Strategy Pays Off
April 2017 By Mark Elliott and Anne Roder, Economic Mobility Corporation
In 2005, QUEST agreed to take part in a randomized controlled trial (RCT) study to assess its impacts on participants' earnings. The evaluation focused on individuals who were pursuing training for health-care jobs, including licensed vocational nurse, registered nurse, medical records coder, and surgical, sonography, and radiology technician. Between April 2006 and October 2008, 410 individuals enrolled in the study, of whom 207 were assigned to the treatment group and 203 to the control group.
The Conclusion: QUEST has demonstrated that investing in low-income individuals' skills can have a meaningful and lasting impact on their lives.
---