Online Application Process: 4 Steps To Apply
Hello & Welcome! Follow the steps below to apply for Capital IDEA's Career Expressway program. If you don't have reliable internet access, you can request a paper packet. Requests and questions are answered through our HELPLINE: 512-485-9350 or info@capitalidea.org
Step 1. Get to Know Us — CareerUp Info Session
Time needed: 25-45 min.
Before you get started on paperwork, we want you to get to know our program including our support and qualifications. You have two options:
Option A. Attend a CareerUp Info Session in person or over Zoom: CareerUp — Sign Up »
Option B. Watch a CareerUp On Demand Video. When You're done, fill out the Confirmation Form to complete this step. Note: the video does not mention Caldwell County, but residents are eligible to apply through September 2024.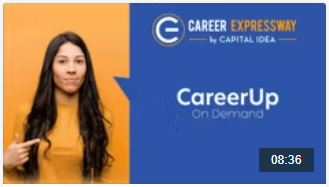 Step 2. Fill Out an Application
Time needed: 15-20 min.
Next, fill out your application using our secure and encrypted database. Please note if your application gets flagged as a duplicate, don't worry, just CALL US or EMAIL US, and we'll get your application updated. Meanwhile, move on to Step 3.
Capital IDEA Application »
Houston Residents: Please note the link above is for Central Texas. To apply in Houston, visit Capital IDEA Houston »
Step 3. Upload Documents
Time needed: 30 min.-2 hrs.
When you complete your application, you'll get an automated email with a link to create a password to login to the applicant dashboard. Make sure to set up your password before the link expires. Once you have your login, it's time to start submitting your documents. We've posted a list of required documents and instructions on completing this step here: Step 3 Instructions »
Step 4. Take an Assessment
Time needed: 30 min.
Your final step is to take the Criteria Online Personality Profile and Aptitude Assessment. It's not a graded exam. It compares your personality and aptitudes with your career interests. We'll use your results to guide you. When you finish step 3, you will get an email from us with a link to take your assessment. If you don't get an email within three business days, please let us know: 512-485-9350 or info@capitalidea.org.
What's Next?
Once you've completed the four steps above, your application is officially complete. Congratulations! Next, you'll set up a couple of appointments. The first is with a Career Guidance Specialist to go over your college and career plans. The last one is a commitment interview where you commit to your chosen college and career route, and we commit to supporting you!