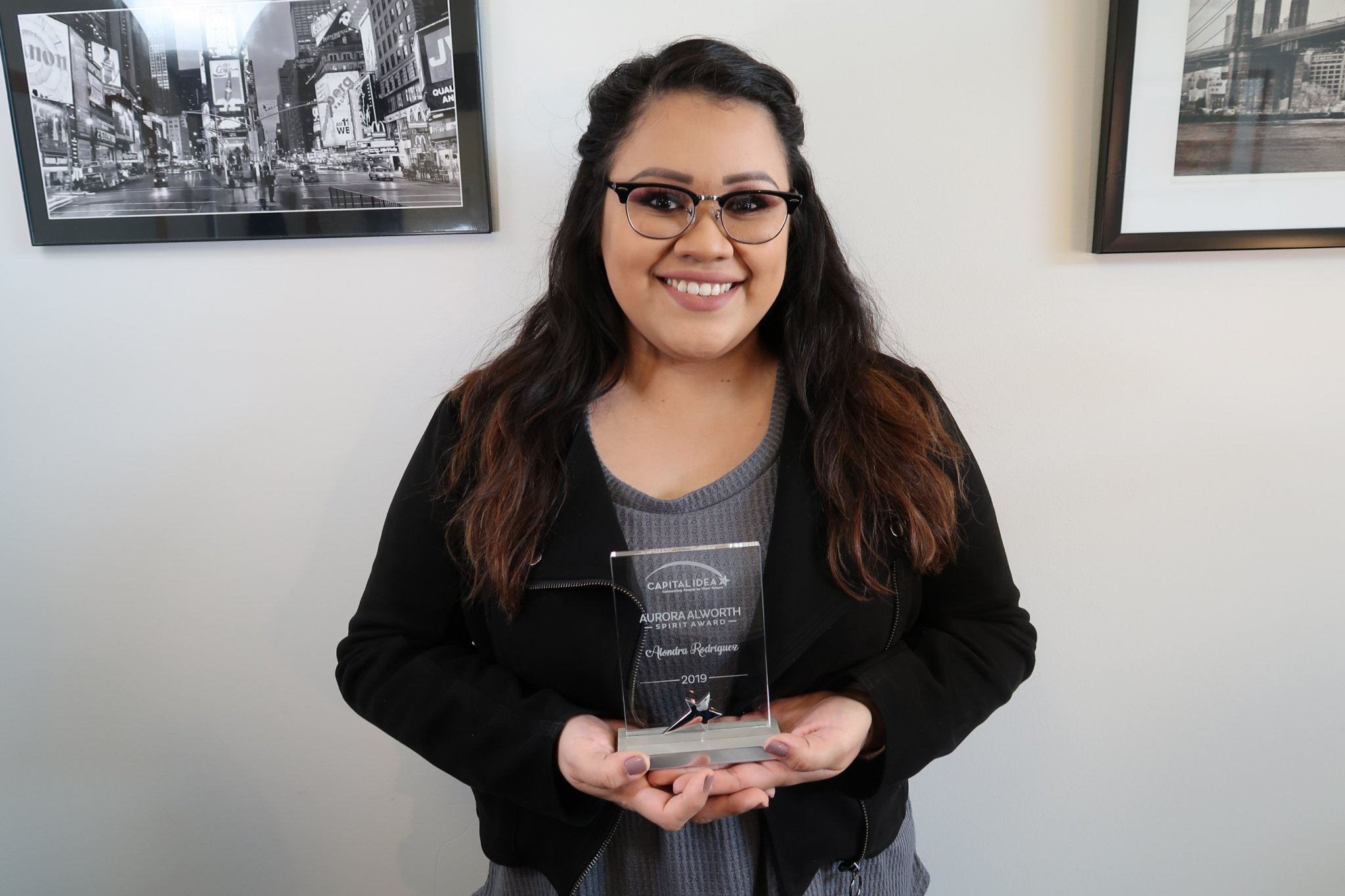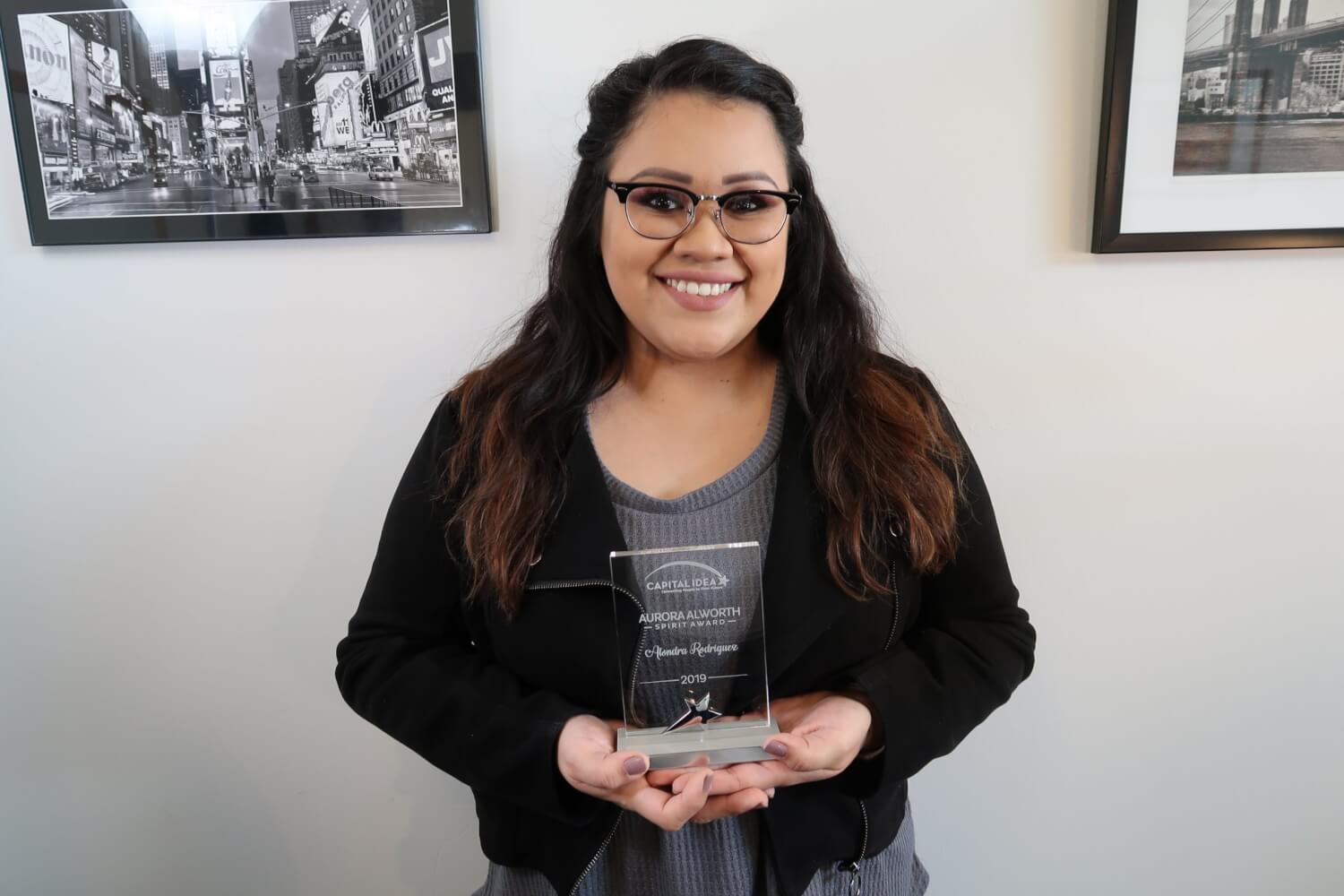 This year's Aurora Alworth Spirit award was given to Alondra Rodriguez. Although Alondra couldn't be there in person to accept the award on March 5, 2020, she prepared and shared her story ahead of our event.
About the Aurora Alworth Award:
skip to Alondra's story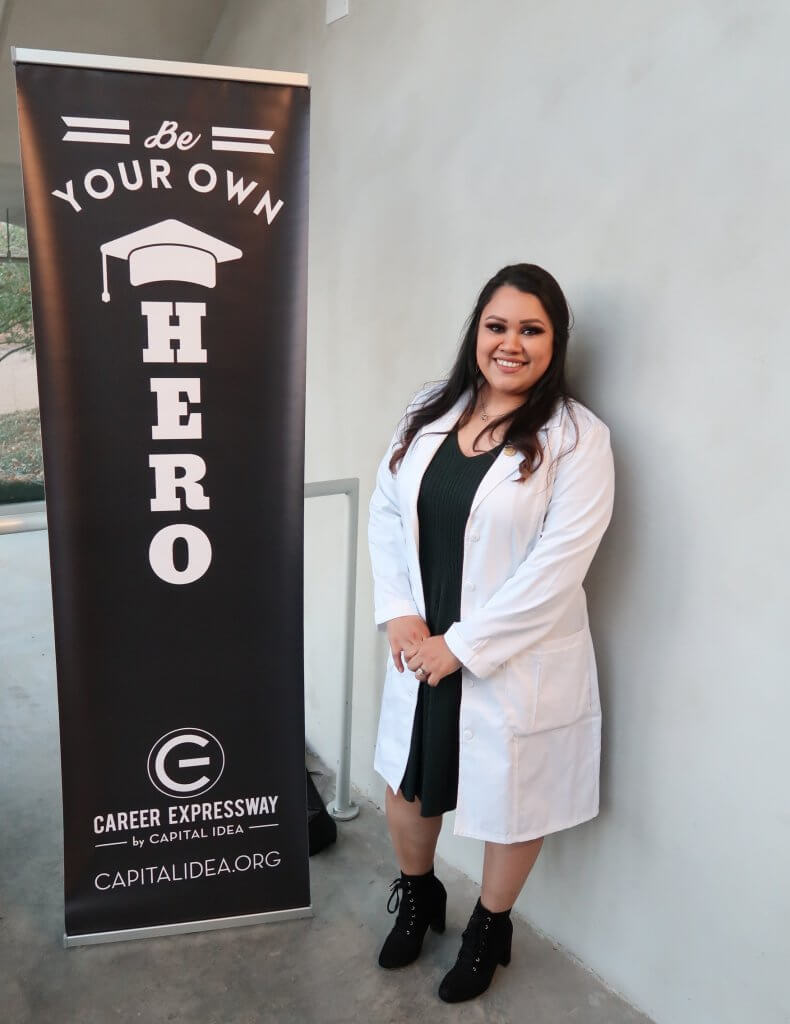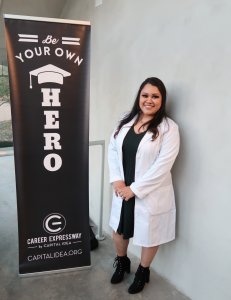 The Aurora Alworth Spirit Award was named for one of Capital IDEA's earliest students whose perseverance and commitment to her education could not be extinguished, even by cancer. Aurora maintained her studies during her treatment and was an inspiration to her fellow students and Capital IDEA staff. Aurora passed away in 2002. We proudly honor her memory by recognizing one of our graduates who exemplifies this same spirit of perseverance, determination, and inspiring others.
This year's Aurora Alworth Spirit Award recipient is Alondra Rodriguez. Alondra started with Capital IDEA in 2015 as a College Prep student. For a decade before that, she'd held onto a dream of becoming a nurse without any idea of how she would get there. Although she often feared it would never happen, she clung to hope, and in 2019, Alondra became the first person in her family to a graduate college.
Her Career Navigator, Sister Ane nominated Alondra for this spirit award because, throughout her time in college, Alondra had a heart for others and showed a willingness to help her peers, often taking time to work with other students who struggled despite her own demanding schedule and family responsibilities as a single mother of three.
When asked about her motivation to lend a hand to those around her, Alondra said that seeing others struggle reminded her of herself, and she knew how hard it could be to feel like it was the end of the world. Having someone to tell her that she could keep going made a huge difference to her and she wants to be that for other people.
For Alondra, that has meant getting involved in the Associate Degree Nursing Student Association to support her fellow students. She would reach out to those a level or two behind her in the nursing program, offering them encouragement, pulling them forward, and helping them find resources to keep them on track. Previously, Alondra also shared her personal story with the teen mom classes at Any Baby Can for the same reason — to be that voice of encouragement.
This award recognizes Alondra's spirit of dedication to education, perseverance to overcome challenges, and willingness to help those around her.
Alondra Rodriguez's Story:
My name is Alondra Rodriguez, I am a first-generation Mexican-American and a single mother of 3. My parents came to the U.S in search of the "American Dream" and a better future for us.
My father worked hard 7 days a week and often double shifts. He taught us that the only way to make it in life was to work twice as hard as the average person and save your money. I remember thinking from a young age that once I graduated high school, I would get a job to help them pay their bills. That was my end goal.
But then my grandmother got diagnosed with cancer. Growing up, I spent every summer and two weeks in the winter with her in Mexico every year. As her condition got worse, treatment options were basically non-existent. It was a huge eye-opener, and that's when I knew that I wanted to make a difference for others like her.
Unfortunately, my teenage years got a little complicated, and I became a mom at the age of 15. I moved out and took on the responsibilities of my own household while still trying to finish high school. When I had my second child, I was transferred to Austin Can Academy, but instead of continuing, I dropped out and got my GED. It was a rough time, and I struggled with all the things that I see other teen moms struggle with: feeling overwhelmed, angry, and scared.
When things didn't work out between me and the father of my children, I moved back in with my parents. Without their support, I don't know if I would have made it. I had young children to care for, and I knew college was not an option. I needed a job, but I felt limited by my education. I wasn't qualified to work in healthcare, which was still my dream.
I was fortunate to find a decent job at a clinic that primarily served low-income immigrants, and I was at least partially fulfilling my dream of helping those in need. After eight years there, they gave me the opportunity to work a few days a week as a Medical Assistant, and the other days I did administration and billing work. Although I felt lucky to have the job, I knew I wanted to do more.
In 2012, my oldest daughter took it upon herself to apply to Anne Richard's Academy and got accepted. She wants to be a pediatrician. As we were talking about HER college plans, she helped me realize that I could still make my own dreams come true.
I took the first step and enrolled at Austin Community College. Then the realization of how expensive it would be hit me like a pile of bricks. I was the sole provider for my children, and I was already working full time and barely making ends meet. There was no way I could do it alone.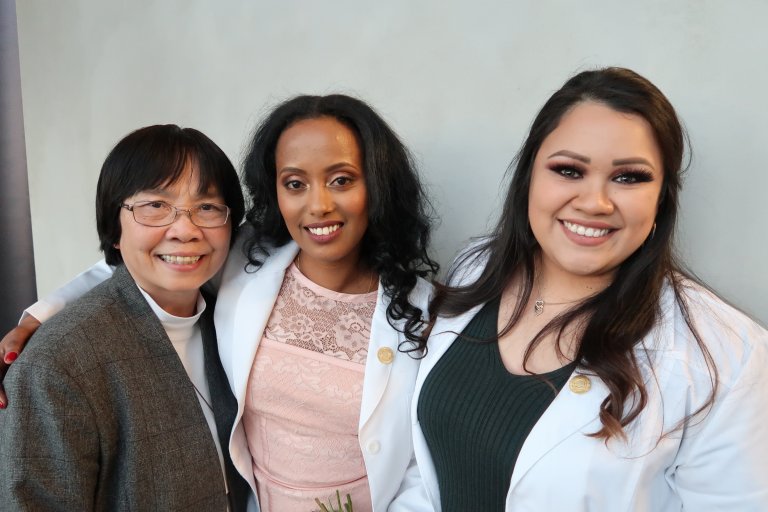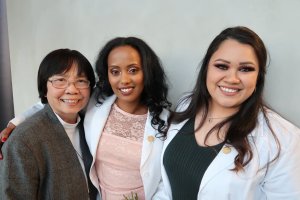 Thankfully, I heard about Capital IDEA. Not only did they pay for my classes, books, uniforms, and supplies but they assigned me a personal navigator that was truly my angel. Sister Ane took the time to listen and motivate me when things got hard and I felt like giving up. In nursing school, you have a lot of these moments.
Thanks to the love and support of my family, friends, and Capital IDEA, I made it! I am the first college graduate in my family. Unfortunately, my grandmother couldn't be here to see it, but I know she is looking down on me and smiling. My parents are so proud and my siblings, too. My youngest sister has enrolled at ACC and is studying to be a sonographer.
I am now a Registered Nurse at St. David's South Austin Hospital in the Oncology/Bone Marrow Transplant Unit. It's the same floor I worked on as a patient tech while I was in school. Once, when my school schedule got too demanding, I tried to quit, but instead of letting me go, they created a nurse externship position that allowed me to work one day a week. I felt so appreciated and valued. It was such a different experience from my early days when I was sure no one would want to hire me. I'm somewhere I'm needed, and I'm helping people every day. I finally have my dream job!