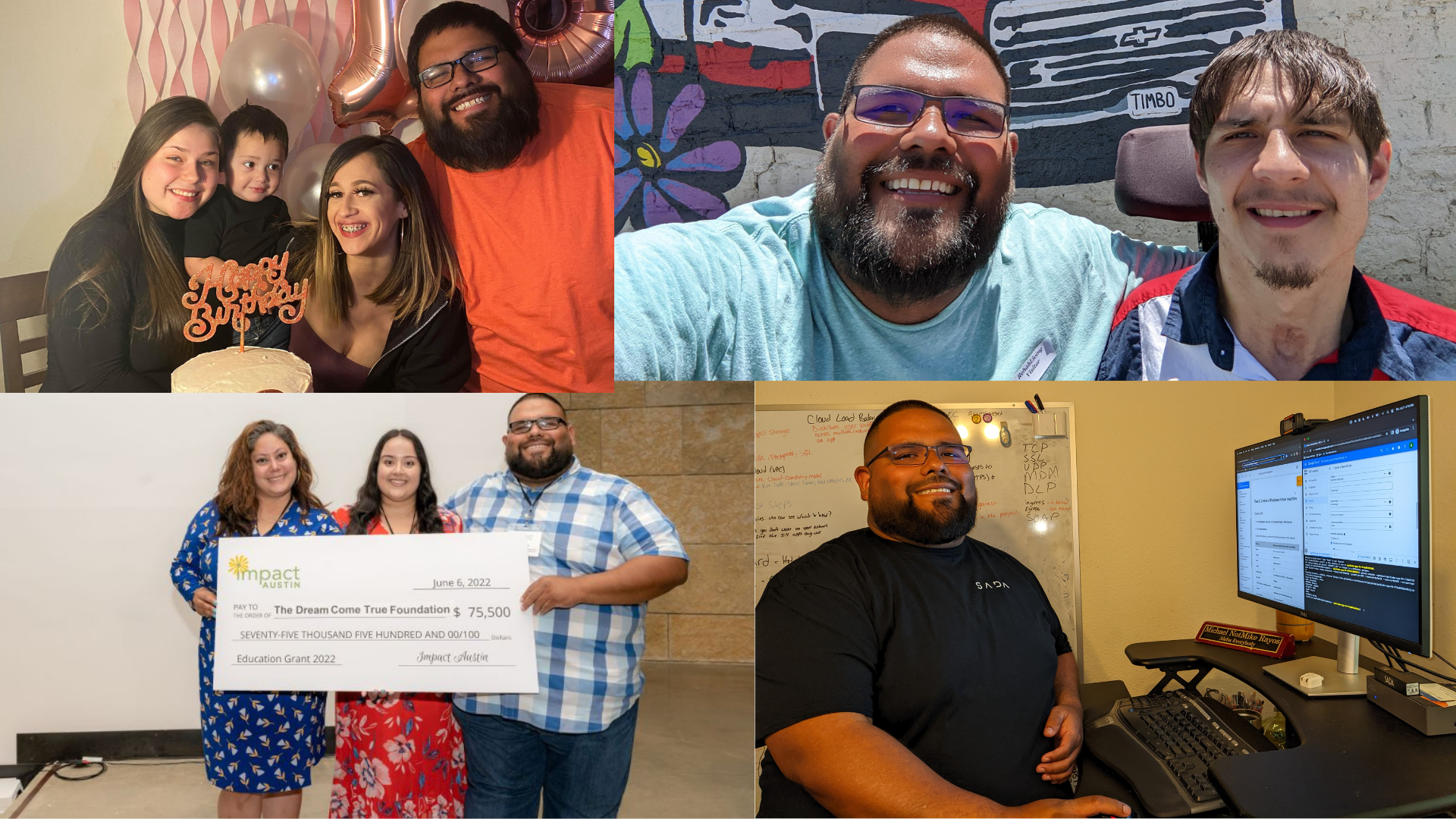 Pictured Top left: Michael with daughters, Andrea and Sofia and grandson Dakota Lee; top right: Michael with son Kevin; bottom left: Michael accepting check on behalf of Dream Come True Foundation; bottom right: Michael at work
By Jeff Sanchez | JULY 8, 2022
Michael Rayos has made many choices in his life, both big and small, and in the words of the beloved literary character, Albus Dumbledore, "It is our choices that show what we truly are, far more than our abilities." This is especially true of Michael. By going to college, earning a degree, and working hard, Michael has proved to himself that he is capable. As a result, he now has a great job and earns an amazing salary. But Michael's story isn't just about him discovering his own capabilities, it's also about the many choices he made along the way. Some were big and some small, but all of them reveal something about Michael and who he truly is.
From an early age, Michael knew he wanted his career to have something to do with computers. "I watched a movie, and I remember a line that said: 'Computers are the key to the future.' All the way back from high school, when you asked me what I wanted to do when I grew up, I would say I want to work with computers." He had never owned a computer before and barely even knew how one operated. "Remember those old AOL commercials offering the CDs for nine dollars? I remember begging my mom to get it for me, thinking that was a computer. Then one day someone told my mom it was just the thing that went in the computer. When I found out, I was crushed." But that didn't stop Michael from dreaming that one day he would be working with computers.
After graduating high school at 17, Michael had only a vague idea of what came next. "My parents worked in the auto detailing business, and no one else in my family had gone to college, so there were no examples in my life that I could look up to." He applied for student loans and moved from Austin to Abilene. "I needed to get away because there were too many distractions here, so I chose a college far away so I could focus." Unfortunately, it didn't go well. "Growing up the way I did, no one taught me how to properly study and prepare for tests. I didn't have the structure to help me be successful in school."
"All the way back from high school, when you asked me what I wanted to do when I grew up, I would say I want to work with computers."
Meanwhile, Michael had two nieces and a nephew who were coming up on two years in the foster care system, a cutoff date that meant the children would soon be eligible for permanent placement. No one in his family was able to take them in, so Michael was faced with a big choice. "When the caseworker made it clear that they were going to start looking for forever families, I asked if I could do it. I had already been thinking about it, and when the opportunity came, I signed up." Now 19, Michael made a big choice to drop out of college, move back to Austin, and adopt them himself.
Michael found a job that would accommodate his new life as a single parent. It paid just enough for him to provide for the kids, if only scraping by. College was out of the question. "I had to choose between school, working full-time, and being a full-time parent. If I did all three, something would've suffered. I had to work full-time to provide. My kids had suffered enough, so I couldn't do that to them. So, I chose not to go to school for now."
As his kids got older, Michael attempted college again. Again, it did not go well. "High school doesn't prepare you for college. In high school, I figured out how to get by. In college, getting by doesn't work anymore." He didn't finish the one course he'd registered for, and now, he was coming to the realization that perhaps it was time to stop chasing his childhood dream.
Then, on a Sunday morning at church, his pastor asked if she could start praying for an opportunity for Michael to go to college. Michael wanted to dismiss the idea, but his friends and family were bugging him too, telling him he couldn't give up on his dream. So, Michael said, "sure, why not, you're not going to find anything." To his surprise, those prayers were answered within a couple of months.
"High school doesn't prepare you for college. In high school, I figured out how to get by. In college, getting by doesn't work anymore."
Michael's pastor connected him to the Dream Come True Foundation. Once he was accepted, The Dream Come True Foundation provided Michael with a stipend allowing him to work part-time. Then they connected him with Capital IDEA to cover his college expenses. Resources were falling into place, but Michael was worried about more than tuition. "My first time, when I went to Abilene, I wasn't very successful. I didn't have the support I needed to keep my priorities straight and stay on track." He needed guidance as well as support, which thankfully, Capital IDEA also provided.
"My Career Navigator helped me with insights into the professors, study habits, all of those things prepared me for success, things I didn't have the first go around." College was still difficult, but between his Career Navigator and the community of Capital IDEA students that supported each other with the coursework, he started making real progress. "I don't think there was one class that I had where there wasn't a Capital IDEA student."
Nearing graduation, Michael and the other Capital IDEA students started getting emails about internship opportunities. The one that caught Michael's eye was at Indeed, the largest job site in the world and one of the biggest tech companies in Austin. "I knew I didn't have a chance," he said, but he convinced himself to apply anyway. "I thought I could use the experience of interviewing for a tech job with a big company." It seemed like a small choice at the time, interviewing for a job he had no hope of getting. "As I was leaving, I asked one of the interviewers how I did. He said, "Well, when we asked about your home network and you didn't have one, that wasn't good."" They'd asked Michael several questions he didn't know the answer to, but at least now he knew what he could work on.
Michael moved on and did much better at an interview with a small company, when much to his surprise, he got an email from Ron Modesty, Senior Employer Coordinator at Capital IDEA. "I just got off the phone with Indeed. They are preparing to make you an offer." Another big choice presented itself. Should Michael hold onto the permanent position he'd just accepted at a small company, or take a leap and accept a 16-week internship at Indeed? He chose Indeed. "It was so surreal."
"My Career Navigator helped me with insights into the professors, study habits, all of those things prepared me for success, things I didn't have the first go around."
Showing up at Indeed, "I felt like an impostor and that I didn't belong there. I thought to myself, I should learn everything I can before they figure me out." Michael decided he would do anything that was asked of him so as not to miss out on a single opportunity to learn, and his supervisors noticed. The mundane tasks that had turned everyone else off were something new for Michael to learn. His reputation continued to grow, and his peers would come to respect and appreciate his willingness to do anything. This earned him a full-time position with the IT department after the 16-week internship.
When a special project came up that no one else wanted, they approached Michael with it. "Yup, I'll do it!" He dug in, and as the project grew, so did the opportunities. The project became a new team, Identity and Access Management, and he landed the company's newly created full-time position.
Indeed restructured and his team moved under Information and Security Department, which continued him down a career path Michael was incredibly excited about. But six years passed, and Michael started to feel like he needed a new challenge. Then, out of the blue, a former co-worker contacted him about an opening at his company for a Cloud Security Engineer. It was incredible opportunity, a dream job, but Michael hesitated. Even after everything he'd learned and accomplished at Indeed, he still felt like an imposter, and he convinced himself that he didn't have any hope of getting the job. He applied anyway.
Right away, his worse fears were confirmed, he didn't have the certifications required for the job. But a couple of months later the company reached out again. There was one spot left on the team, and his name kept coming up. His drive and attitude impressed the interview team, and his experience with Identity and Access Management at Indeed was just enough for them to take a chance on him, despite his lack of certifications. He got the job offer, with the caveat that he would get Google Security certified.
"I felt like an impostor and that I didn't belong there. I thought to myself, I should learn everything I can before they figure me out."
In May 2022, he accepted the position and title of Cloud Security Engineer. His new salary is in the six figures, almost 200 times as much as he made before he started with Capital IDEA, and there are new challenges galore. He has plenty of room to learn and grow in his new field. His kids have witnessed first-hand the value of investing in an education. "Not only have they seen how it's increased my pay, but now they know about all these careers available to them."
Ten years ago, if you had told Michael that he would be working in the tech field making six figures, he wouldn't have believed it. "I was at the point where I had accepted that my dream of working in tech was not going to happen. But when I think about how long it took to get here, it's all so amazing."
Michael's journey is far from over. He now sits on the board for The Dream Come True Foundation, where he brings an important perspective. "There are times when I get to educate the other board members about how poor people think. There are things that aren't as important to us because we're more concerned with things like food and rent. This is why it's important for people like me to be in these spaces." Michael also speaks on behalf of Capital IDEA to prospective students at CareerUps and at City Council meetings to help secure funding. He gives a lot of credit to Capital IDEA for his successful career and wants to help spread the word so others can take advantage of the same opportunity. "Through Capital IDEA, I had the support and the community I needed and that was huge."
"Through Capital IDEA, I had the support and the community I needed and that was huge."
Despite his self-doubts, Michael made choices, big and small, throughout his journey to get to where he is today. "I always saw myself as an impostor and was afraid someone would find out. It wasn't until I got this new job that I finally started seeing myself as capable." He knows there are many people like him who feel the same way and this continues to motivate him. "I need to reach back and bring someone up with me. I want people to know that they belong and deserve to be here. They need to be here, and they have the capability to make it."
Just like Michael, you have the capability to make it even if it doesn't feel like it right now. It's a big choice whether to go back to school or not, but sometimes, making the choice is the hardest part. If you're ready to make that choice or need more information, let's talk. You can email our team at outreach@capitalidea.org, or sign up for an information session: LEARN MORE »