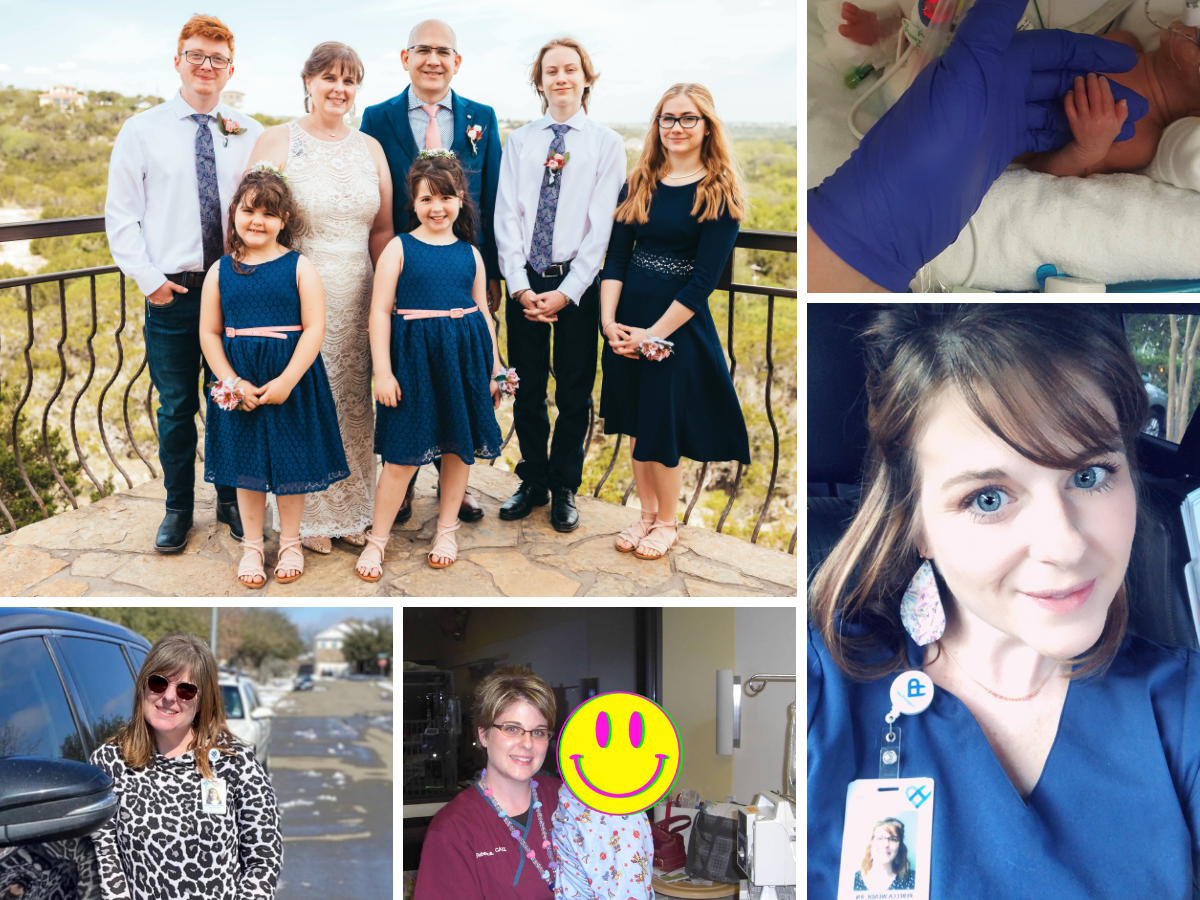 By Jeff Sanchez | AUGUST 29, 2022
When Rebecca Meneses' life got off track, her road back was anything but easy. "Being a single mom without any formal education was so challenging." She was lost and needed to find her way back, if not for herself, to provide for her son and the big family she hoped to have someday. "As a kid, I always told my mom I was going to have ten kids! I just love kids, but when I became a single mom, I didn't know if that was ever going to be a possibility."
Like almost thirty percent of Capital IDEA students, Rebecca's parents were college graduates, and they wanted the same for her. "I always knew college was expected growing up, so it was never a question." Her parents taught her to have goals and work towards them, and Rebecca's goals were to go to college, get a good job, and start a big family. But Rebecca would soon learn that life is more complicated than that, and sometimes, our plans can go awry.
In her final year of high school, Rebecca's best friend tragically passed away. "I was kind of lost after that. I didn't know what I wanted to do." She got pregnant the summer after high school graduation, and her college plans got waylaid. She ended up marrying the father of her child, but shortly after that, they divorced, leaving Rebecca as a young, single mother with an infant son to take care of.
Rebecca worked a full-time job and would clean houses on the side to make ends meet. "I was working 12 hours a day, six days a week, not getting any time with my son. That's not something I wanted to do," said Rebecca. Feeling trapped and with no way out, Rebecca did the best she could to provide for herself and her child. But this wasn't the life she wanted; this wasn't the life she had envisioned.
"I was working 12 hours a day, six days a week, not getting any time with my son. That's not something I wanted to do."
Rebecca knew she needed to find something better for herself and her son but didn't know how. Then, when her brother got sick, Rebecca found herself curious to learn more about his illness. "I was really interested to know what happened to him, and the science in nursing really sparked my interest." Unfortunately, with the demands on her life as a single parent, going to nursing school seemed like an unattainable goal. She would need help, and that's when her cousin told her about Capital IDEA. It sounded too good to be true, but with nothing to lose, Rebecca attended a CareerUp information session and was convinced. This program could help her to her new goal of becoming a nurse!
In addition to tuition, books, and childcare, Capital IDEA also provided proven strategies for succeeding in college. "Capital IDEA gave me a recipe for success. They had parameters we needed to maintain, like a certain GPA and a certain level of attendance. That gave me accountability and a sort of recipe to follow." Throughout her college journey, Rebecca met regularly with her Career Navigator. "The weekly check-ins were so helpful. Just having someone who was consistently there rooting for you was so helpful."
Rebecca also received wrap-around support when her finances threatened her progress. "Capital IDEA provided me with Wal-Mart gift cards, which was so helpful because I could use them for gas, food, and school supplies. That was a huge help! I can't tell you how many times those cards saved me."
Even with all that support, Rebecca still had to figure out how to manage a part-time job, keep her grades up in college, and do everything that came along with being a single parent. "It was tough, but I made it work. I took any free hour I had to study. I even used to read my anatomy books to my son as bedtime stories to get some additional study time!" Going to college was more than just getting a degree and a good job for Rebecca. It was a way for her to provide a better life for her son and to show him that if you work hard, you can accomplish your goals.
"Capital IDEA gave me a recipe for success. They had parameters we needed to maintain, like a certain GPA and a certain level of attendance. That gave me accountability and a sort of recipe to follow."
In 2010, at 29, Rebecca graduated with her Associate Degree in Registered Nursing and was excited to accept a position at the Children's Hospital of Austin soon after. "I love working with children. I think they are so inspiring, and they have a lot to teach us. Working with children, I can really help our community and our families." Twelve years later, she continues her work with children, earning several certifications in pediatric care—Certified Pediatric Nurse, Certified Pediatric Massage Therapy, and Certified Hospice and Palliative Pediatric Nurse. She is now at Dell Children's Hospital, where she's transitioned into hospice care. "I'm able to be there with the families and walk them through the end-of-life journey and teach parents how to love during that difficult time."
Today, Rebecca enjoys the life she once envisioned for herself as a teen. She happily remarried in May 2021. Her husband brought over two kids from a previous marriage, and now Rebecca has a full house with five kids. "It's so wonderful to come home from work, be tired, and have all these little faces looking at you, and they're excited and happy to see you. It's so rewarding and so fun." Her newly blended family is extremely supportive and understanding of the emotionally demanding nature of her work. "I have a great support team. My husband is so supportive and so understanding of my role and the importance of my job. He allows me to have space to talk or just to have time for myself. I rely on my family a lot for that kind of support."
Finding her way back was not easy for Rebecca, and it took a lot of support to get her to where she is today. She is so grateful for her loving family, including her mother, stepfather, father, and grandmother. "My dad was a huge inspiration to me, a driving force to get my goals started, and the person I talked to for advice. But the person I'd like to acknowledge the most is my grandmother. She drove me to my Capital IDEA assessment, was there for me through thick and thin, always supportive, my ally, she is my everything and remains my cornerstone."
"You have to go for it. Even if you are apprehensive or feel like you can't do it, just do it. Capital IDEA will hold your hand through it, and they will help you achieve those goals. If they see the attitude that you want to get this done, they will do whatever it takes to get you there."
Rebecca is only too happy to share her life lessons with prospective students who might feel the same way she did, that their life has gone off track, and they don't know what to do next. She encourages them to set goals, then go for it, utilizing any and all resources and support available to them, like Capital IDEA. "You have to go for it. Even if you are apprehensive or feel like you can't do it, just do it. Capital IDEA will hold your hand through it, and they will help you achieve those goals. If they see the attitude that you want to get this done, they will do whatever it takes to get you there."
Just like Rebecca, you have the capability to get your life back on track, but first, you have to get up and go for it! And we'll be here to support you through it all. You can email our team at outreach@capitalidea.org, or sign up for an information session: LEARN MORE »