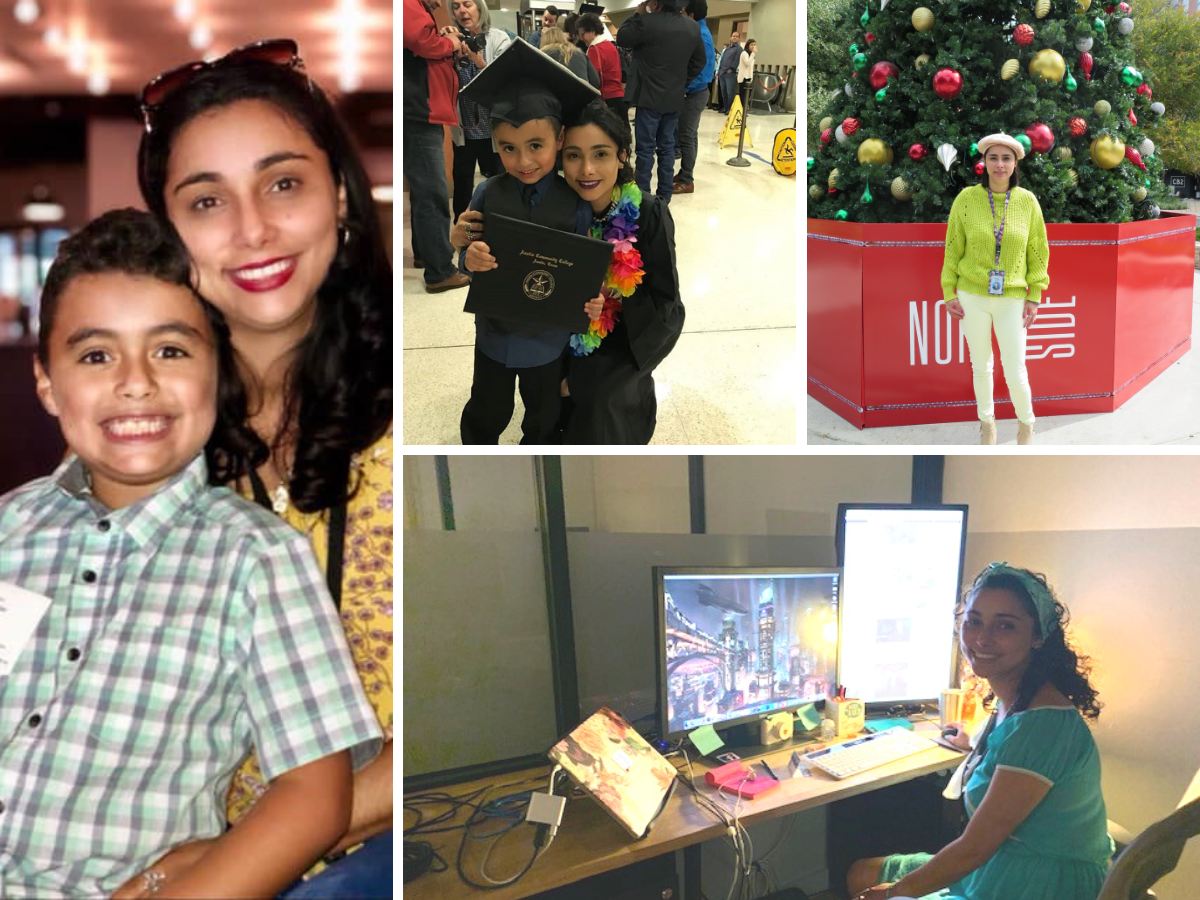 By Jeff Sanchez | DECEMBER 7, 2022
"Without my degree, I would not have been able to do any of this." Growing up in Cuba, Yasmin Sosa was taught that earning a degree was the best way to ensure a good financial future for herself. From an early age, her grandfather, Juvier, saw that Yasmin loved learning and encouraged her to find a way to go to college. At the age of 24, Yasmin immigrated to the United States, determined to realize her dream of earning her degree and making her grandfather proud.
From the start, Yasmin's path to a college education was filled with challenges. While she knew she wanted to work in the tech field, she needed to get her English up to a college level before she could even begin working toward her degree.
Yasmin started taking English classes at a local church, embarking on what would turn out to be a three-year effort to improve her English language skills. After one year at the church, she transitioned to basic English at Austin Community College (ACC). By the time she finished two years of English courses there, she'd used up big chunks of her financial aid, and like many first-generation college students, she was unaware of the Federal limits. When it came time to start her associate degree program, her ACC advisor, Lucia Ponce, informed her of a great program for students in technology majors—Capital IDEA.
"Without my degree, I would not have been able to do any of this."
Yasmin applied, got accepted, and the very next semester, her college expenses were covered through the Career Expressway by Capital IDEA. She could let go of the worry that funds would run out and focus on studying and finishing her degree program. And she would need that focus because even after four years of English courses, the language and cultural barriers still presented significant obstacles. "Everything here was different than where I came from, even school and how you are taught, so it was hard to feel like I fit in."
Eight years after immigrating to the U.S., with three of those years spent learning English and two years spent earning her degree at ACC, Yasmin's dedication paid off. In 2017, she graduated with her Associate of Applied Science in Computer Science and was one step closer to getting into her dream career field. "Since I was a kid, I've loved learning everything about computers." Upon graduation, Yasmin continued taking a database class, which Capital IDEA paid for, and earned her Database Administrator certificate. That certificate, coupled with the two internships Capital IDEA had connected her to at the Housing Authority of the City of Austin and Missionbox, plus her degree, had prepared her to land a job with one of the world's most recognized tech companies, Meta, the parent company of Facebook.
The steadfast determination and dedication that got her through college helped her succeed in a competitive career field, but Yasmin credits her success to something she learned from her grandmother—having the right attitude. "I think being a Latina, and my English not being the best, especially with a heavy accent, my attitude has been a big factor in getting this far." Yasmin's grandmother taught her the importance of staying calm and collected and letting her work speak for her. With this powerful piece of advice, Yasmin has propelled her career to a leadership position as a Senior Project Engineer in Virtual Reality Labs. "I like the leadership aspect of my job, managing a team, organizing, and preparing reports. I like working with different personalities and finding ways to motivate them. I get great satisfaction from helping my team members achieve their work goals and bringing out the best in them."
"I think being a Latina, and my English not being the best, especially with a heavy accent, my attitude has been a big factor in getting this far."
Yasmin's attitude and self-confidence have also helped her navigate the difficult terrain of being a woman in tech and gain the respect of her mostly male co-workers. To her female colleagues vying to succeed in the male-dominated tech field, she offers this piece of advice: "Be confident in yourself and be the best in your area, get out of your comfort zone, and don't give up. To me, having confidence is the key to everything."
Yasmin's dream of a college degree and a career in tech came true, and while her grandfather wasn't alive to see it, she dedicated her graduation to him, knowing she'd made him proud. She had the advice and encouragement of her family, the guidance of a wonderful college advisor, and the support of Capital IDEA to see her through. "Capital IDEA changed my life, and because of the opportunity they gave me, I can provide a better future for my son. What Capital IDEA is doing is making dreams come true."
"Capital IDEA changed my life, and because of the opportunity they gave me, I can provide a better future for my son. What Capital IDEA is doing is making dreams come true."
Just like Yasmin, you can earn your degree and get your dream career. We'll be with you every step of the way. You can email our team at outreach@capitalidea.org, or sign up for an information session: LEARN MORE »