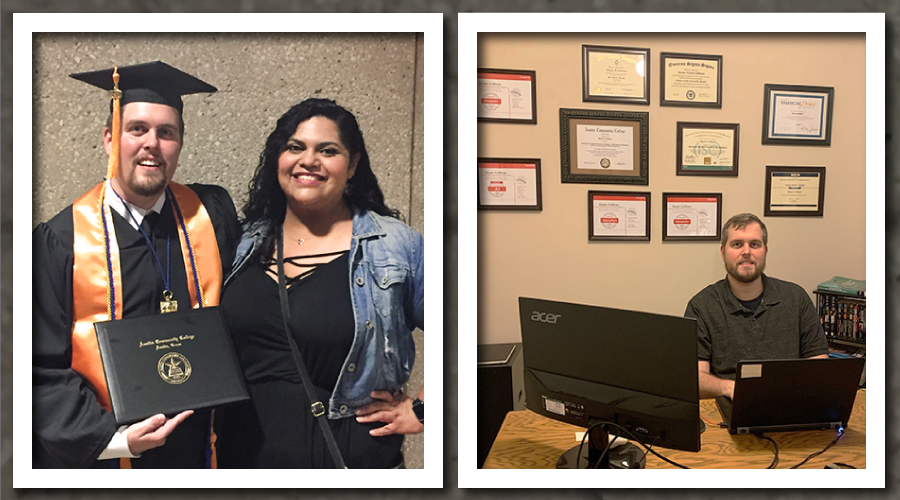 By Jeff Sanchez | JULY 1, 2021
College isn't for everybody, right? Some people should go, but others just aren't cut out for it. That's the conclusion Skyler Coffman arrived at when his first attempt at college didn't pan out. But Skyler is now a college graduate with a great job. As a Senior Ops Technical Support Specialist at VISA, he earns enough to cover all of his own living expenses and pay for his upcoming wedding and honeymoon. Once he's married, his next goal will be to buy a home. So, what changed? How did Skyler go from counting himself out to having the confidence to give college another try?
After high school, Skyler enrolled in college. He knew it was the proverbial next step, but he wasn't sure what he wanted to study. He'd been a C student at best in high school, and it carried over into his first year in college where poor grades just won't cut it. "It got to the point where the dean called me in and informed me that if my grades didn't improve, I would have to leave. So at that point, I thought, ok, well, I guess college isn't for me."
For Skyler, it felt like his options were shrinking. If college wasn't for him, he would have to find the best job open to him without a college degree. Then, hopefully, he'd still be able to support himself and the future family he knew he wanted. His first stop was in retail and sales, but it was a bad fit. It didn't matter if he was on a sales floor or going door-to-door; sales was definitely not for him.
"Capital IDEA provided the guidance, and I didn't feel like I was alone."
His next stop was a call center where he provided computer support. At first, it felt right. He loved helping people with computer and networking issues, but the demanding environment coupled with an exhausting call volume was overwhelming, and the stress got to him. The high-pressure customer service roles eroded his vision for his future and left Skyler in a depressed state. "Right before I went into Capital IDEA I was at the lowest point of my life. I remember going into IHOP with my fiancée and looking at the menu, worrying if I could afford anything. I didn't have a lot of money, and I felt awful that I couldn't even take my girlfriend out to dinner."
But Skyler's journey through the world of unsatisfying jobs had done something important — it had rekindled his joy of working with computers. This was the missing piece that had impeded his first attempt at college. He didn't know what he wanted to do back then, and the lack of enthusiasm had shown up in his grades. Now Skyler remembered fondly playing with his dad's old TI 99/4. He was sure he wanted to do something with computers which meant there was no way around it. He would have to give college another try.
The answer for how to pay for college came soon after. "My dad saw Capital IDEA in the newspaper and said, 'Hey, you should try this.' At first, I was skeptical. It says they pay for tuition and fees, books, and a parking permit. What's the catch?" Skyler went to a CareerUp information session where he found out there was no catch. So, he applied and got accepted into the Career Expressway program. It was his second attempt at college, and this time it would be different.
"The first time, I wasn't really sure of myself. When I finally decided to go back to college, I was older. I knew what career I wanted to pursue, and I had a girlfriend that I wanted to marry." In addition to having a clear career goal and extra motivation, Skyler also now had the support of Capital IDEA. "Capital IDEA provided the guidance, and I didn't feel like I was alone. The biggest thing is that they guide you through the whole process and support you through the challenges along the way."
Skyler reenrolled in classes he'd failed before, but even with a new outlook and a new attitude, the grades didn't come easy. "I struggled at first with the math classes, but I got a tutor that really helped me through it. Once I got to the classes that interested me, it became easier. When asked what advice he would give to someone who struggles with grades as he did, he said, "Don't dwell on the negative. Instead, take a step back, see what works and what doesn't, and seek out tutoring."
As Skyler continued to grow in his understanding of network administration through his studies and internships, he realized that he could help others with the same struggles. The student community that surrounded him through Capital IDEA allowed him to do just that. "I became like a mentor and helped others with their work. Teaching others helped me understand the concepts better." Getting to know other students also helped Skyler develop a network of colleagues in the IT world that he continues to benefit from.
"Don't be so hard on yourself. Find what you're good at and lean into it."
With the support of Capital IDEA, the student community, his family, and his fiancée, Skyler graduated from Austin Community College in 2018 with his Associate's Degree in Network Administration. Since then, he has earned six certificates and started working towards his bachelor's degree. In the thirteen years that passed between his first attempt at college and his graduation, he went from wondering if he could afford to buy his fiancée anything on an IHOP menu to paying for their wedding, renting his own apartment, and putting a down payment on their honeymoon to Disneyworld. Skyler and his fiancée will be married in March 2022, and their future together is looking bright.
Capital IDEA is invested in the success of every student in the Career Expressway program. In addition to financial support, we provide services and resources to help students like Skyler make the grade and graduate. Skyler went from believing that college wasn't for him to being less than a year away from his Bachelor's Degree. He did it, and you can too. As Skyler would say, "Don't be so hard on yourself. Find what you're good at and lean into it." Sign up for a CareerUp info session to learn more about the Career Expressway program.