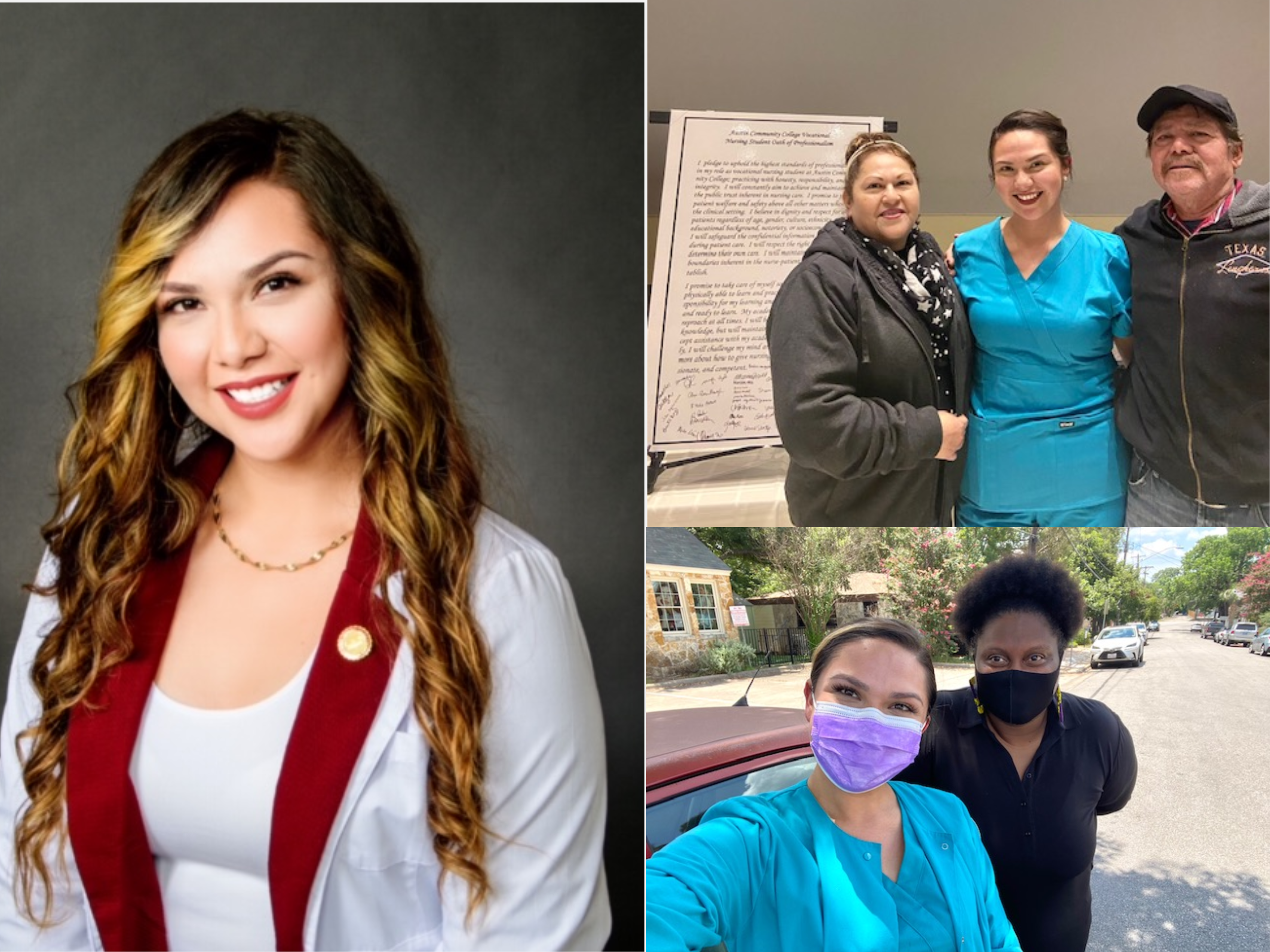 Pictured left: Estrella Saldana; top right: Estrella and her parents; bottom right: Estrella and her Career Navigator, Tonia Gooden
By Jeff Sanchez | MAY 19, 2022
One of Estrella Saldana's earliest memories is of bringing in groceries from the car. Her mom would place one small item in a grocery bag and let her drag it into the house (she was too little to carry it). She absolutely loved it. From that young age, Estrella knew that helping others made her happy. As she grew, Estrella's desire to help grew too, and by the time she graduated high school, she knew exactly what she wanted to do with her life. "Nursing was a great way to give back and help. My heart was calling me to nursing."
No one in Estrella's family had experience with going to college. This meant no one in her family could help her navigate the complexities of college enrollment, and she didn't know anything about grants, scholarships, or where to get help financially. So, she enrolled in classes at Austin Community College (ACC) and planned to work a full-time job to pay for tuition and her expenses. Unfortunately, the program she wanted to get into had a two-year waiting list. Estrella did not want to wait, so, she searched for an alternative.
She thought she had found the perfect solution, but little did she know the trouble ahead. She enrolled in a for-profit school whose class schedule worked with her work schedule, and they promised her she would be able to complete the program faster. It was expensive, but through the student loans they helped her apply for and a full-time job, she could pay for the program. Unfortunately, the school went bankrupt, lost its accreditation, and closed shop before Estrella could complete the program. Not only was she on the hook for her loans, but the credits she earned at this school wouldn't transfer anywhere. She was left with no credentials, a mountain of debt, and her dream of becoming a nurse seemed to be slipping away.
"Nursing was a great way to give back and help. My heart was calling me to nursing."
She felt defeated. The long drives to the campus and the sleep-deprived days of balancing work and school had left her with nothing to show for it. Chasing her dream was becoming increasingly difficult. So, if she couldn't become a nurse, Estrella figured she would get a job in the healthcare industry. She was a hard worker and worked her way up from a research technician to a project manager assistant at a pharmaceutical company. She earned a decent wage and was able to take ownership of her childhood home that her parents passed down to her. Life was coming together, but her dream of becoming a nurse was still tugging at her, and she began saving up for college once more.
Then, in a twist of fate, Estrella came home after working a late-night shift to a shocking discovery. A tornado had come through and destroyed her house! "Everything was wet, and I lost everything. I lost my house. I felt like all my dreams, and everything I worked for was gone." As she slowly figured out how to recover from this devastating loss, she realized, "I can't go to school right now. I'll have to put my dreams to the side again."
But Estrella just couldn't shake the desire to become a nurse. "I wanted to be a role model. I wanted to help people. I knew I wanted more, and I wanted my parents to be proud." She tried going back to school on her own dime again, but she came to a crossroads. "Unfortunately, I couldn't afford to go to school and continue working full time, so I had to pick one, and that's when Capital IDEA came and rescued me."
"Unfortunately, I couldn't afford to go to school and continue working full time, so I had to pick one, and that's when Capital IDEA came and rescued me."
It just so happened one of her co-workers was a nursing student at ACC. She told Estrella that Capital IDEA was paying for her tuition, textbooks, and other school expenses. This sounded too good to be true, but Estrella took the chance, applied, and got accepted, and it turned out to be one of her best decisions. "Going back to school with Capital IDEA supporting me was amazing! I finally felt like I had the resources I needed." The financial support was a huge weight lifted off Estrella's shoulders, and her Career Navigator, Tonia, was nothing short of amazing. "She would check up on me, making sure I was doing ok. Just having someone that understood, having someone to relate to and talk to about things like deadlines and credits was so helpful."
As graduation approached, Estrella worked with Capital IDEA Senior Employment Coordinator Ron Modesty, who reviewed her resume, prepared her for interviews, guided her job search, and even helped her with negotiating! "When I was getting multiple job offers, I didn't know what to do, so I called Ron! He advised me on how to handle negotiations with them and get the best deal possible."
On November 1, 2021, Estrella started her dream job as a Licensed Vocational Nurse at Dell Seton Medical Center at the University of Texas in the Digestive Health department. "It's been so much fun. I love to learn, and I'm learning so many new things." And now, she's looking to expand her dream. "I want to work towards becoming a Physician's Assistant, and who knows, if things work out, maybe become an MD someday."
"I hope you find the resilience to keep going. You are capable of everything, even though it feels overwhelming. You are worthy of a bright future."
Estrella went through a lot on her way to getting her dream job. She encourages aspiring students to take a leap of faith, believe in themselves, and dream big. "I hope you find the resilience to keep going. You are capable of everything, even though it feels overwhelming. You are worthy of a bright future."
At Capital IDEA, we share Estrella's belief that everyone is worthy of a bright future, and we'd like to help you achieve yours. If you are feeling held back due to a lack of guidance and resources, let's talk. You can email our team at outreach@capitalidea.org, or sign up for an information session: LEARN MORE »