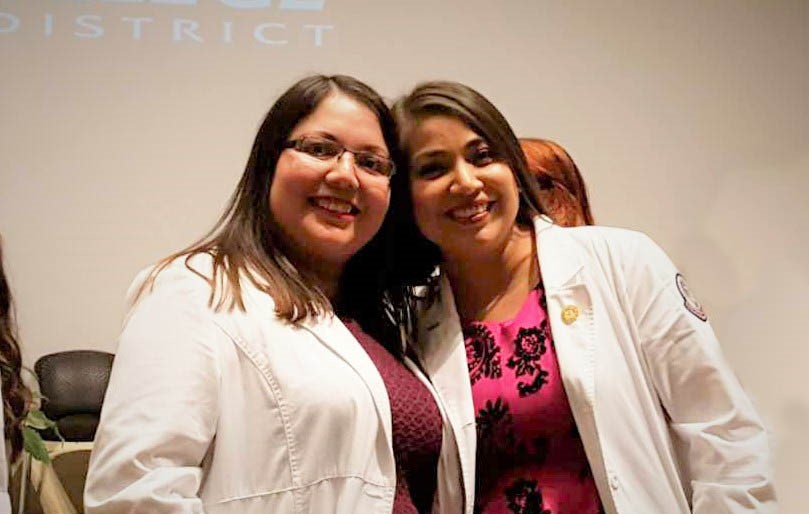 By Jeff Sanchez | DECEMBER 9, 2020
When Juana Patino decided to go to college, she had no idea the kind of ripple effect it would have on her family. As of this post, three of the Patino siblings, Juana, Araceli, and Maria Laura, have all graduated from college with degrees in healthcare and IT. A fourth sister, Maria Rosa, is currently enrolled and expected to graduate in December of 2022. This month's graduate spotlight features Juana and Araceli Patino, two sisters who struggled and worked hard to achieve their goals, and in doing so, set an example others in their family would follow.
Juana, the first of her siblings to attempt college, graduated from Austin Community College (ACC) as an LVN in 2013 and went on to earn her Associate's Degree in Nursing (ADN) in 2017. Today, she is a Registered Nurse with MGA Homecare. She chose a nursing career because she "wanted to do something meaningful for the world." But to get there, she knew it would take a lot of hard work to overcome her challenges.
Juana grew up in Mexico and moved to the United States with her family in 2000. She graduated high school in 2006. As a single teen mom and the sole provider, she got a job immediately after high school. After a year working as a Wal-Mart cashier, she realized she would need a more substantial income to take care of herself and her son. She knew that meant going back to school. The question was, how was she going to pay for it?
Luckily, she remembered hearing about a program called Capital IDEA in high school. She applied and got accepted. As a student in Capital IDEA's Career Expressway program, Juana's tuition, books, and school supplies were covered. Capital IDEA also pointed her to other resources that helped her with gas, tutoring services, and childcare.
Relieved that paying for school was no longer an issue, Juana focused on the personal challenges that stood in her way. As the first person in her family to go to college, she had no idea what to expect. "I was nervous about going to college. I felt lost. I took things step by step, just thinking about what I had to do next." Additionally, as a non-native English speaker, "I really struggled with medical terminology. I had to study harder than everybody else." Thirdly, her responsibilities as a single mother weighed heavily on her as she strove to keep up with her studies.
"As long as you want to be successful, you're going to be successful." – Juana Patino
Mid-way through the program, these and other personal struggles overwhelmed Juana to the point where she felt she needed to drop out. Thankfully, financial assistance was not the only thing she was getting from Capital IDEA. The extra guidance and encouragement from her Career Navigator was exactly what she needed during this difficult time. "My Navigator never gave up on me. She kept calling me. At one point, I was out for a whole year, and if it weren't for her, I probably would have never come back." Juana resumed her studies and finished her degree, setting an example for her younger sister Araceli to follow.
Araceli was accepted into the Career Expressway program in 2012, 5 years after Juana first enrolled, and graduated from ACC in 2017. She currently works for Brightstar Homehealth as a Registered Nurse. Although she had an example in her sister, her path to graduation was likewise difficult, and Araceli had her own obstacles to overcome.
After high school, Araceli had little direction. She enrolled at ACC taking general courses, but with no goal in mind, Araceli soon drifted away from college, opting instead to work multiple low-wage jobs in fast food, retail, and cleaning offices in the afternoon. When her sister Juana told her about Capital IDEA and encouraged her to think about a job in healthcare, Araceli took an interest. She earned a short-term credential and found a job as a certified nursing assistant (CNA). But it was her sister's example that inspired her to keep going, and soon Araceli was back at ACC, this time with a definitive goal of earning her associate's degree in nursing.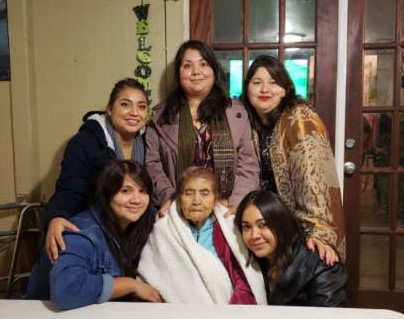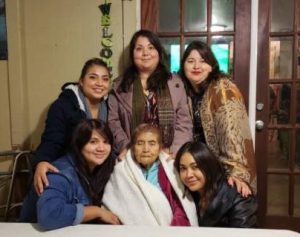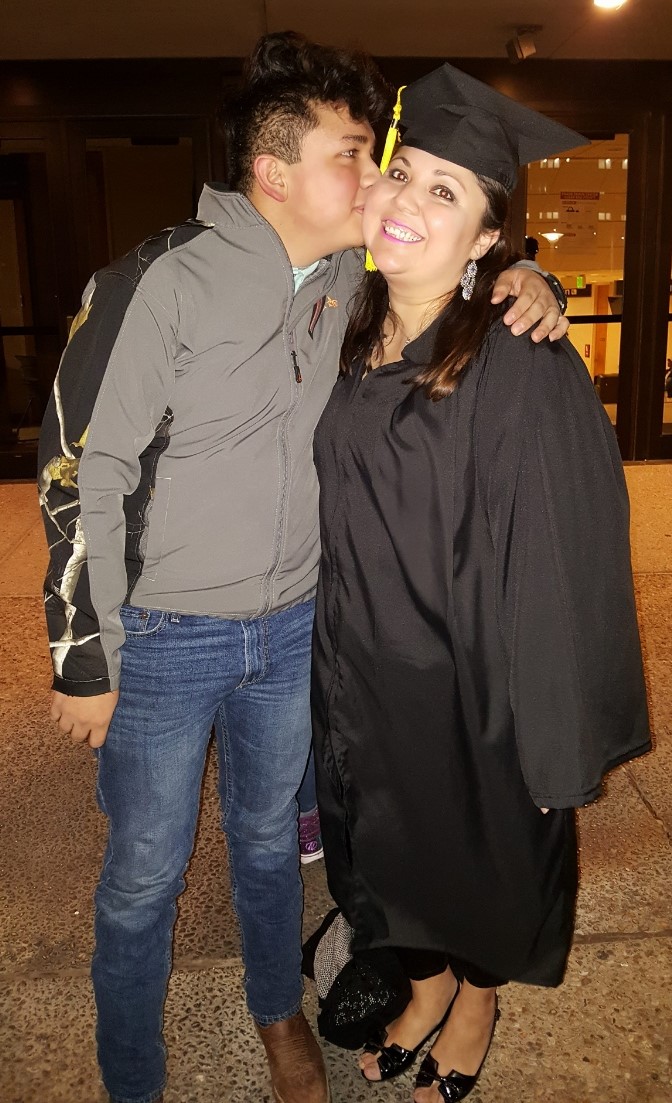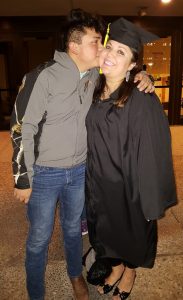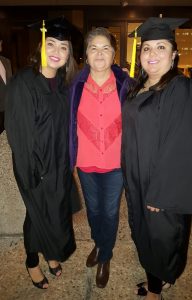 Pictured (from left): The Patino sisters pictured with their grandmother; Juana and her son; Araceli (left) and Juana (right) with their mother.
Unfortunately, tragedy struck and threatened to derail Araceli's aspirations. During her first semester in the Career Expressway program, her husband traveled to Mexico to visit his mother for her birthday and went missing. The family searched for years, but he was never found. There are no words to convey the loss she felt. To compound matters, she was now a single parent with one income, trying to go to college full-time while raising her two-year-old son. The experience was overwhelming. "I pushed through during the fall semester, and then I took a semester off."
In a fantastic display of strength and courage, Araceli returned the following summer semester. "I had to finish school. I had to provide for my son. And I also had to finish for my husband." But going to college as a single parent was challenging. "I had to sacrifice time with my kid and work nights through the nursing program. It was really rough and very hard emotionally. I had to learn to spread my time." Yet, Araceli stayed focused through it all, and now offers this advice to other single parents in college. "Don't lose hope. There's an end to the road. Everything you sacrifice, all your sleepless nights, and all your tiredness and stress and frustration, it's going to pay off. I see it now."
For Araceli, support made all of the difference. She had her family around her and Capital IDEA in her corner. "The most meaningful support I received from Capital IDEA was the emotional support I got from Sister Ane. She made me feel loved and supported. Even though she's tough and pushes you, she always checked on me and reminded me that we were going to get through this." When things got really rough, Sister Ane tapped into Capital IDEA's emergency funds to provide a month of rent for Araceli and her son in addition to gift cards that helped her persevere by ensuring their basic needs were met. In the end, it all added up to Araceli getting to where she is today—working in a job she loves with the ability to provide for her son.
"It may feel like it's impossible, but it's not. All the sacrifices will be worth it." – Araceli Patino
Both Juana and Araceli overcame struggles and worked tirelessly to get to where they are. For both of them, it's not over. They have ambitions to go further, to pursue higher education in the nursing field. Juana aims to become a Nurse Anesthetist, and Araceli plans to get her Bachelor's Degree in nursing. With the courage and determination they have already displayed in their lives, there is no doubt they will achieve these new goals and a lot more.
Meanwhile, the ripple effect continues in the Patino family. Two other sisters embraced the opportunity to earn college credentials, and their passion for education has reverberated down to their children. "I want to help my kids not settle," Araceli says. After seeing their mothers go to college, they now believe they can too.
Juana and Araceli hope that their stories of struggle and overcoming challenges inspire others not to settle and to pursue their own success. Juana points to the importance of believing in yourself. "As long as you want to be successful, you're going to be successful." Araceli encourages others to keep their eye on the end goal and not to give up. "It may feel like it's impossible, but it's not. All the sacrifices will be worth it."
If you or someone you know is interested in launching a new career, contact us, and let us help you overcome your challenges to reach your career goals.