This year Capital IDEA student, Alicia Gonzales, is a featured family in the Austin American Statesman Season for Caring. Since 1999, Statesman readers have generously donated more than 11 million dollars in cash and in-kind goods and services, all of which have benefited the featured families and hundreds of others like them who are also supported by these agencies.
Alicia Gonzales' day starts at the crack of dawn. She wakes up around 4 a.m. to take her mother, Zonia Garcia, 62, to her 5:15 a.m. dialysis treatments at Davita, a 10-minute drive from her Georgetown apartment.
Her three sons — still half asleep — pile into the car for the trip, and by the time they return home, Gonzales says, it's time to eat breakfast and get ready for school.
AJ, 6, takes the bus to school at 7:15 a.m. Ezra, 4, and Felix, 3, are dropped off at day care at 7:30 a.m. Gonzales then races to Round Rock for an 8 a.m. lecture or a test at Austin Community College, where she is studying to become a registered nurse.
ComForCare, a home and senior care organization, picks Garcia up from her appointments and takes her home. Shortly after, a home nurse meets Garcia and monitors her for a few hours after her treatments. Garcia then sleeps most of the day.
When school lets out around 3 p.m., Gonzales picks up the boys from school, heads home to check on Garcia, does homework with the boys and then starts dinner. By 7 p.m. the kids are in bed and ready for a book. They each pick a book and lie with Gonzales, 40, before falling asleep.
While her schedule can be demanding, Gonzales says she knew she had to find a way to earn more money, and going back to school to become a nurse was the way to do that.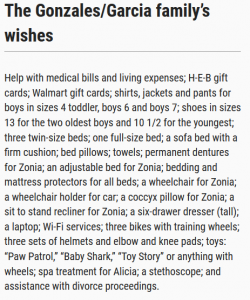 "I was perfectly happy with my medical assistant salary, but once the kids started going to school, I knew I need to make better money," Gonzales says. "I thought going back to school and becoming a nurse would be easy, but it is way more than I expected. It's made me respect that job even more, and now that I have been working so hard to get (a degree), it's not just a piece of paper anymore."
Gonzales had no idea when she went back to school four years ago that she would give birth to her third son, separate from her husband, quit her part-time medical assistant job and become the primary caregiver for her mother, who has kidney failure, along the way. Garcia has been on dialysis three times a week since June 2018 and is not yet on a transplant list.
Knowing that Gonzales needed to continue working, they found Garcia an early morning chair time so she could have time to rest before taking care of the boys in the evening.
Gonzales worked as a part-time medical assistant at Lone Star Circle of Care and went to school during the day, but when her grades started to drop and it started to become too much for Garcia to take care of the boys after dialysis treatments, Gonzales says she dropped the job to focus on studying and taking care of the family.
While Gonzales has found some balance, she still has several months before she finishes school in May, and with limited income, things at home have gotten tight.
The family relies on monthly child support and leftover funds from Gonzales' school grants to get by.
With the help of Capital IDEA — an Austin-based nonprofit that provides financial support and professional guidance to nontraditional students who want to move up in their career — she is able to receive funding for tuition, books and school supplies, but everyday appliances and household items have been put on the back burner until she can earn more money.
"We make it work," Gonzales says. "We pray a lot, and I know a lot of the strength comes from God. I know I wouldn't be able to do it without him. I give him glory every single day."