Welcome to Capital IDEA's online CareerUp!
If you'd prefer to attend a live presentation where you can meet our staff and ask questions: Signup for a CareerUp
Online applicants: Press play on the video below (18 min). Once you've watched the entire presentation, scroll down to 'Move on to Step2!' and fill out the form to continue on.
---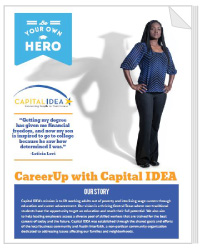 Download the CareerUp Guide (optional): The CareerUp Guide has all of the important information from the video above. You can save a copy to refer to as you go through the application steps. CareerUp Guide (pdf)
---
Move on to Step 2!
Now that you've watched the CareerUp online, it's time to get your application started! Fill out this form to continue on to your next step.
---