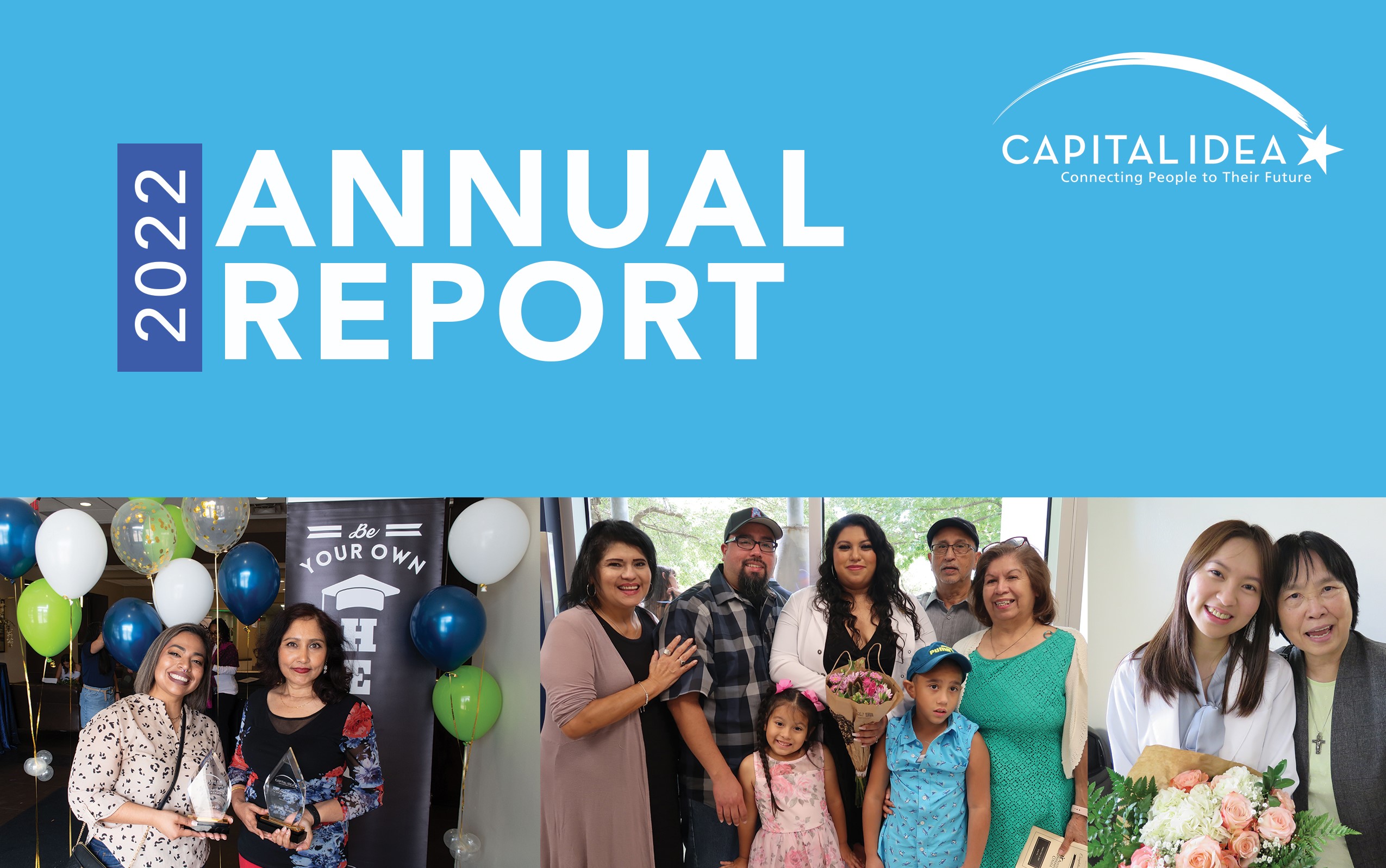 Letter From Our Executive Director | 2022 Annual Report
Dear Friends,
I am incredibly honored to have joined the dedicated and passionate team at Capital IDEA on July 1, 2022. And six weeks in, I had the joy of attending my first graduation ceremonies in August 2022. It was wonderful to celebrate with over 30 Capital IDEA students and their families as graduates completed their academic milestones and embarked on their dream careers. The fact that these graduates tripled their income (on average) and are now earning starting salaries close to $60,000 annually is a testament to the transformational nature of Capital IDEA's Career Expressway program, our extensive community and employer partnerships, and the motivation of each and every student to succeed.
Since then, I have had the privilege of seeing the continued hard work of our students, our team, and our community every single day. There have been more graduations and celebrations, along with challenges and opportunities for growth. Capital IDEA enrollment slowed during the pandemic, much like higher education institution enrollment nationwide. Last September, we saw the first signs of enrollment growth, with indications that this growth will continue as more and more of our neighbors see the life-changing potential that a degree in a high-demand field can bring.
I am exceptionally proud to be the Executive Director of Capital IDEA during such a critical time for our region. My commitment to this work stems from a deep belief in the transformative power of education. Like many, I have been fortunate to experience it firsthand in my own family. Education has the power to generate lifelong and multi-generational rewards. By working together to fill specific, high demand and high-need jobs in our region, we can see exponential rewards for the time, energy, and money we invest. This is the heart of what we do at Capital IDEA. Together, we invest in students today so they can become our much-needed talent for tomorrow– our employees, our leaders, our changemakers. To highlight this impact, I encourage you to read Connie Castillo's story starting on page five of our 2022 Annual Report*.
Alyssia Palacios-Woods
Executive Director

* Having trouble viewing the PDF?: Try updating Adobe Acrobat Reader »
HIGHLIGHT | Year In Review
Page 4: In 2022, Capital IDEA served 1,041 Central Texas adults, graduated 118 students, and placed 108 graduates into new careers with an average starting wage of $27 an hour or approximately $56,000 a year. Read »