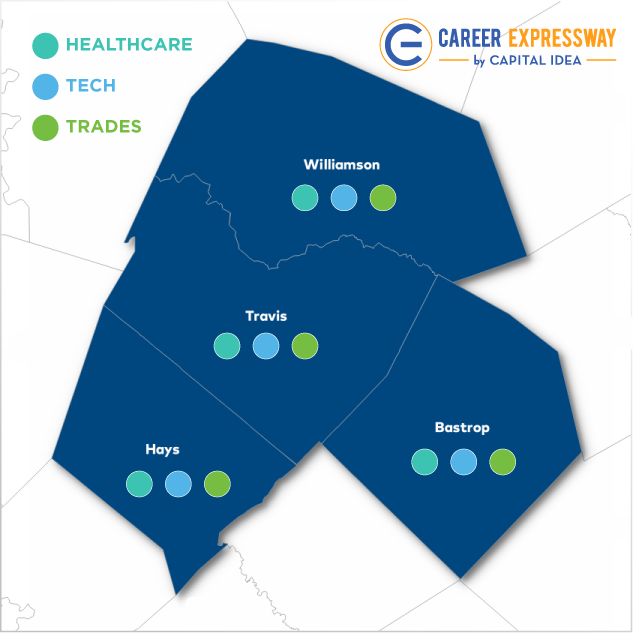 BIG NEWS — Capital IDEA is excited to announce that we have temporarily expanded the number of careers available to applicants from Hays and Bastrop counties! This change will stay in effect through September 2022. This means residents who apply now can choose from the same full list of careers available to Travis and Williamson County residents. Pick your new career and receive all of the benefits of our Career Expressway program:
● We will pay your full tuition each semester, purchase your textbooks, and pay for miscellaneous fees including required tools and uniforms.
● We'll also offer childcare assistance to parents.
● Once you've earned your degree, we'll guide you in your job search and help you land your dream job. It's our mission is to get you into a new career, and we'll be with you from start to HIRED!
Which Careers Are New?
Previously, Hays and Bastrop residents had a short list of nine or fewer healthcare careers to choose from. On our expanded list, the number of careers has more than doubled! Choose from three additional Healthcare careers, three Technology (IT) careers, and nine Trades & Other careers. See below. These added careers include several exciting options. Advanced Manufacturing was added to our list less than a year ago. Automotive Technician includes a professional toolset purchased for each student. And LAN Systems Network Administrator is our most popular IT degree. Each career on our list offers great pay and growth opportunities, which means the hard work you put in now will pay off for the rest of your working life. Follow the links in the list below for information on the career you want to learn more about, or visit our Career Directory »
Once you've found your future career, take the next step! Sign up for a CareerUp information session. We'll cover everything you need to know about how to get your FREE degree through our Career Expressway program, sign up!
Sign Up »
Careers Open to Hays & Bastrop
*Newly added for Hays and Bastrop